Digital menu is becoming increasingly popular among restaurants and venues around the world. It is often found accompanied with the traditional paper menu, and other times as a substitute for it. In this article, we will look at the main reasons for managers to digitize their menus and what are the advantages of a digital menu compared to a traditional paper menu.
Why choose digital menu over paper menu?
Digital menu can always be updated. The manager can easily make real-time changes to his or her menu to keep it aligned with the chef's offerings, without having to resort to printing every time or worrying about providing out-of-date menus to his or her customers.
In addition, in the digital menu, one can enter daily dishes of the day,delete finished products or put highlight the latest products. These shrewdnesses help to increase customer satisfaction, who will be more likely to order the recommended dishes and leave positive reviews about your establishment.
Modifying a paper menu is time-consuming and costly, so we often hedge on updating them. This negatively affects the customer experience and the customer's perception of your venue.
Digital menu is complete with all information.
Customers can read the detailed descriptions of dishes and view their photos, they can independently access information on allergens or vegetarian options, without requiring the intervention of the wait staff.A point not to be overlooked is the importance of images, for imagining a dish based only on its name or description is quite different from being able to see it in photos. The eye wants its share, and thanks to the digital menu, it is possible to give customers a unique visual experience that will help them choose their favorite dishes and increase their satisfaction.
Paper menu has limited space allowing it to carry only essential information. In addition, it is not interactive, so it is not easy for customers to filter out dishes that contain allergens, such as gluten, and search for specific information, such as vegetarian or lactose-free options.
Digital menu improves service efficiency.
Digital menu not only shows the restaurant's offerings, but also has some additional services that can make the staff's work more efficient and quicker, such as ordering a meal or reserving a table directly from the menu. Streamlining the ordering and booking process avoids possible errors and delays caused by verbal communication.
Paper menus can make the ordering process slower and less efficient, for two main reasons:Verbal communication can easily lead to misunderstandings resulting in delays;
if there are not enough copies of the menu to meet the demand of all tables, customers must necessarily wait to receive one.
In both cases, the overall customer experience is compromised.
Digital menu is more hygienic and doesn't spoil.
A restaurant that uses a digital menu transmits confidence and attention to quality.
This choice indicates that the restaurant is attentive to the needs of its customers and wants to provide them with maximum security.
Using a digital menu, in fact, avoids physical contact between the menu and customers' hands, reducing the risk of transmission of bacteria or viruses. In addition, the digital menu is immune to damage caused by stains, tears, or creases, consequently it will always beautiful to look at.
Paper menu can deteriorate and stain easily, especially if it is exposed to liquids or sharp objects. This may compromise the readability of the menu, and in some cases, it will be necessary to replace menus frequently (this option can not only be expensive, but also environmentally unfriendly).
Digital menu can attract new customers from the Web.
Digital menu is not only seen by the people in the venue, it can also be shared on the web:showing your offer onlineis the best way to make yourself known to new customers.
It can be added insocial pages, in one's own website or be shared via WhatsApp or via email.
At the same time, it is possible to include within the menu links to one's social pages, e-mail, WhatsApp number, and Google Maps location of the business, making it easy for customers to contact the venue or find its address.
Paper menu does not offer these same opportunities, it cannot contain digital links or information. In addition, in order to be consulted, the customer must necessarily be present on the premises..

One does not exclude the other: a digital menu can be used together with a paper menu
Restaurants that adopt both types of menus guarantee their customers the freedom to choose which version to consult, meeting everyone's needs.
Those fond of tradition will have the classic paper menu at their disposal, while the more tech-savvy will appreciate the interactivity of the digital format.
For this reason, the best digital menu services include the ability to print a PDF version of your menu, which is also always up-to-date.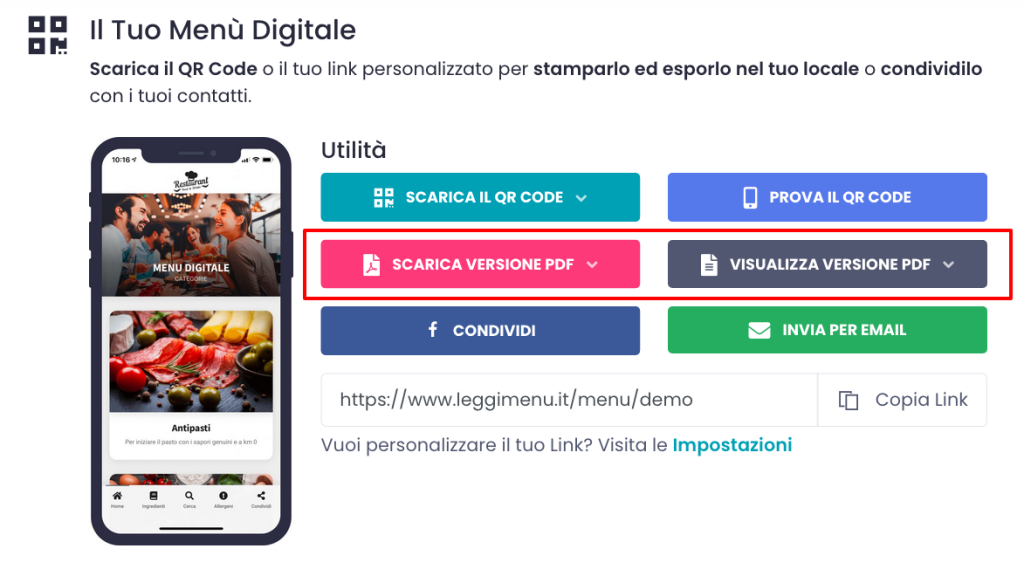 leggimenu.it allows you to download the PDF version of the menu
Which service should you choose to benefit from the advantages of digital menu?

If you still have doubts about the effectiveness of a digital menu versus a paper menu, you probably haven't had the opportunity to try it yet or you have used a service that doesn't meet your expectations.
If you are considering using a digital menu for your venue, it is important to carefully assess what service offers a truly efficient menu that takes into account your needs and those of your customers (an unprofessional service will risk doing your business more harm than good).
How to get the benefits of digital menu for free
A professional and at the same time free service is that offered by leggimenu.it (you can read Trustpilot reviews to find out what the more than 20,000 members think).
With leggimenu.it you can easily create a well-organized digital menu that looks good, is easy to use, and really enhances your dishes.
Create your free digital menu now
or
Read the article "How to create a free digital menu"